Italian Design Summer School: Art, Society and Industry
IDSS 2021, the 15th Edition
Location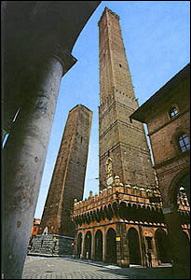 Students lodge for the first two weeks in Bologna at "RTMliving Bologna Mover" and for the last week in Bertinoro at "University Residential Center of Bertinoro".
Accommodation at RTMliving Bologna Mover: double rooms. Only in case of odd number of students, it could be necessary to use triple rooms. It is also possible to lodge in a single room by paying a total extra fee of 350 Euro.
Accommodation at CeUB: in double rooms. It is also possible to lodge in a single room paying a total extra fee of 100 Euro. Single rooms are located in Hotel Colonna, a few minutes walk from CeUB.
Students can lodge in single rooms, when available; in this case, a specific request must be sent by paying the extra price.



At their arrival, students will be provided with maps and guidebooks, which should help them enjoying their stay in Bologna. Students will receive information to travel and visit other italian cities during their free time. Visits to relevant cultural and artistic sites are scheduled during the weekends; for this purpose transports by private buses will be available to students.
RTMliving Bologna Mover
is located in Via Mario Fantin nr. 15 in
Bologna
, in a very strategic position, close to the airport, to the train station and to the downtown that can be reached in a few minutes by walking or by bus. RTMliving Bologna Mover is also close to the new University district. RTMliving Bologna Mover is a comfortable lodging structure , where Summer Schools students of the University of Bologna can socialize with other guests.
Accommodation is in double rooms rooms with private bathroom, kitchen with refrigerator, telephone and television. In case of an odd number of students it will be necessary to add a few number of triple rooms. Single room are available but an extra cost must be considered. RTMliving Bologna Mover provides a reception service (open 24 hours a day) and a laundry service as well. Students will receive instruction at their arrival in order to connect their laptops and mobile phone to the wireless network which is available in every room.
Since Bologna lies in the centre of Italy, it is possible to quickly reach most of the major italian artistic location: travel times (by fast train) from Bologna to some of such sites are shown below.
Students will spend the last five days of the course in Bertinoro, a small beautiful village of historical interest on the top of a hill in Romagna region. They will lodge at the
University Residential Center of Bertinoro
which is located in via Frangipane 6, inside a medieval castle, which first original construction dates back to year 1000.
During their stay in Bertinoro they will use local facilities to deepen some design aspects relevant to modeling and rapid prototyping. In Bertinoro students will have the possibility to use computer rooms, common studies spaces and a laboratory where they will develop a physical modelling activity using special materials and tools.